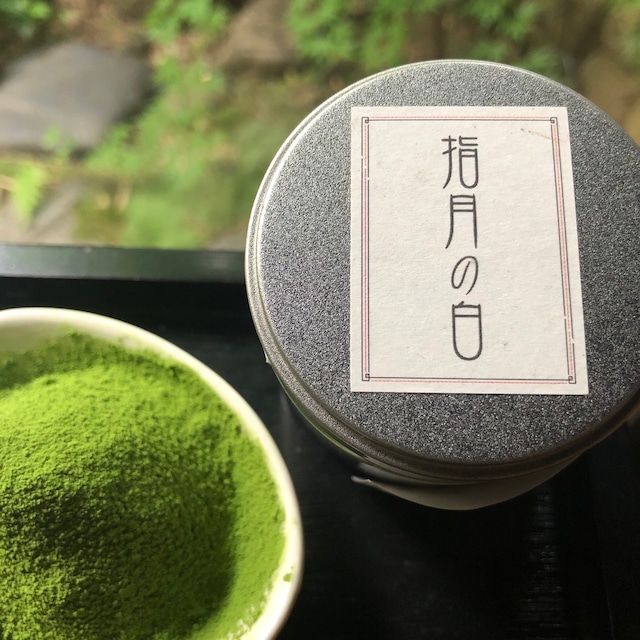 ご注文受付中 指月の白 (しげつのしろ)
Shipping fee is not included. More information.
Japan domestic shipping fees for purchases over ¥10,000 will be free.
薄茶 指月の白(しげつのしろ)

らん布袋最高ランクの薄茶
こちらは、濃茶としてもお使いいただける
大変贅沢な深い味わいがあります。
通常の抹茶は、茶葉1キロから600gほどを使いますが
こちらは厳選した茶葉を使いますので
わずか300gしか採れません。

京都産茶葉100%にこだわり、
京田辺市の茶農家さんと何度もミーティングを重ねて
商品化されたらん布袋オリジナルのお抹茶。

20g

らん布袋のお抹茶は全て京都産100%
オリジナルのお抹茶を挽きたてでご用意しておりますので
納期を1週間から10日ほど頂戴しております。


Shigetsunoshiro usucha (thin tea)

The highest grade of usucha (thin tea) from ran Hotei. It offers an exceptionally luxurious and deep flavor that can also be enjoyed as koicha (thick tea). While regular matcha typically produces around 600g of tea leaves per kilogram, this particular blend selects only the finest leaves, yielding a mere 300g.

For three years from 2007, we were dedicated in using 100% Kyoto-grown tea leaves, repeatedly meeting with tea farmers in Kyotanabe City to create and introduce our original 'ran Hotei' matcha.

ran Hotei matcha is made from 100% Kyoto-grown tea leaves. Upon receiving your order we freshly grind the leaves, so please allow for a delivery time of 1 week to 10 days.
Add to Like via app
Shipping method / fee

Payment method